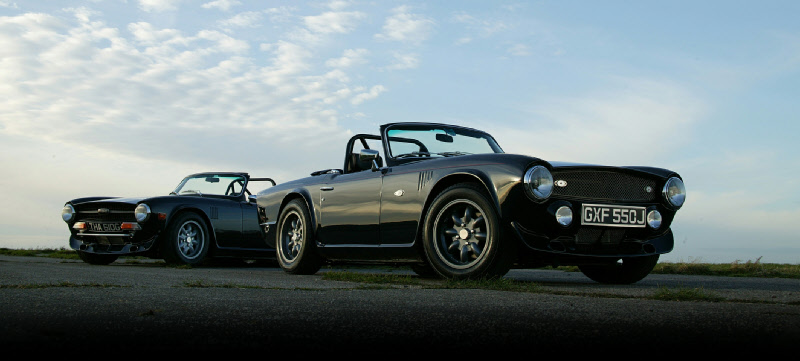 All prices exclude VAT and delivery and are subject to change without notice. Please confirm price at time of order. Orders can be placed by telephone, fax or e-mail; please see the contact page. If you have allowed Flash/ActiveX you can hover on a photograph to
bring up a larger version or click the for more photos and information.

Competition Driveshaft for TR4A/5/6 Fast road and race. Considerably beefed-up, splined driveshaft with huge improvement in the universal joints. Comes with UJs fitted and one drive flange. replacement for original shaft and will handle 250BHP reliably.

Girling Axle Tube Brace Kit TR2,3,3A & 4. Even in ordinary road use the pressed in and pinned LH/RH axle tubes suffer distortion from prolonged use or if subjected to competition use. In more serious cases the joints leak differential oil and can fracture the halfshaft spline entering the differential. This brace is a bolt on attachment that barely intrudes into axle movement space. It is extremely strong and lightweight and adds considerable strength to any TR live axle. NB. Lockheed TR2 special order. Kit includes Axle fixing blocks and bolts, set of long diff. cover bolts and two gaskets.
Uprated Differential Driveshaft Flange. TR250,TR5 & TR6 LH & RH. New splined axle shaft with quality UK bearing. Has billet machined four bolt flange to differential and driveshaft.

Driveshaft U/J Flange. TR flanges but can supply conversions from other diff output flanges to connect to the TR driveshafts eg. GT6 (ask for prices).


Uprated Girling Hubs TR3 & TR4. New product from a quality UK manufacturer. Hubs (and half shafts below) for fast road, track day and competition use. Direct replacement fit for original parts. (Picture also shows half shafts)

Uprated Girling Half Shafts TR3. New product from a quality UK manufacturer. Half shafts (and hubs above) for fast road, track day and competition use. Direct replacement fit for original parts. (Picture also shows hubs)

Uprated Girling Half Shafts TR4. New product from a quality UK manufacturer. Half shafts (and hubs above) for fast road, track day and competition use. Direct replacement fit for original parts. (Picture also shows hubs)